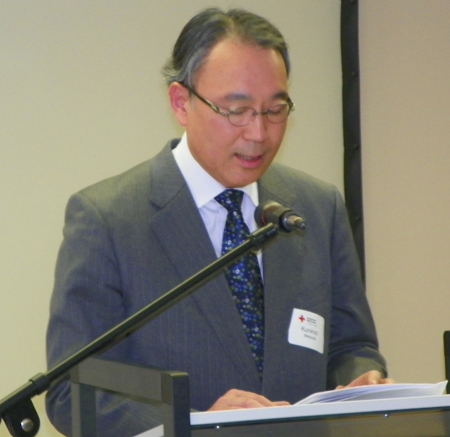 From The Courier in Findlay:
As Japan recovers from last year's tsunami, Findlay and Ohio can parlay their business-friendly climate into jobs, a diplomat representing Japanese companies in Ohio and Michigan said Monday.





"Momentum is building, stronger, for more Japanese investment coming into the United States and especially the Midwest," said Kuninori Matsuda, consul-general of Japan, in Detroit. He spoke to Findlay Rotary.





More than 75 percent of Japanese companies plan to expand outside Japan this year, Matsuda said.





Honda, for example, plans to add or expand auto plants and suppliers in the United States since production was interrupted last year by the tsunami, Matsuda said. Exchange rates favor Japanese investment in factories in North America. Honda is increasingly letting American engineers and scientists research, develop and design vehicles to cater to American tastes, he said.





So Findlay and Ohio are in great position to lure companies because of what Matsuda called their "business-friendly climate."





Japanese companies employ 20,000 in northwestern Ohio and 58,000 statewide. Japan is the top foreign investor in Ohio. It all looks good for Findlay and Ohio's prospects.





"Usually when Japanese companies are looking for a new place for investment, they usually come to the place where there is already Japanese presence," Matsuda said after his speech. "Ohio is home to so many Japanese companies ... which is a reflection of something very good about the state of Ohio."





Japanese companies always research their options when considering places in the U.S. to invest.





"And Ohio always comes up high on the radar," Matsuda said.
Read the rest of the article here.
Connect with us on Facebook and Twitter!
Follow @EnergyNewsBlog